Feather Yarn, Bean Yarn, Faux Mink Fur Yarn
These 3 kinds of blankets are perfect choices for your daily life and have been a fan favorite for years. They are lightweight, breathable and ultra soft, and super easy to wash and dry, while providing warmth and coziness. They won't create any scratchy feeling even leaving with bare skin. These blankets are suitable for all seasons. Made from 100% polyester microfiber. 
Air Feel Yarn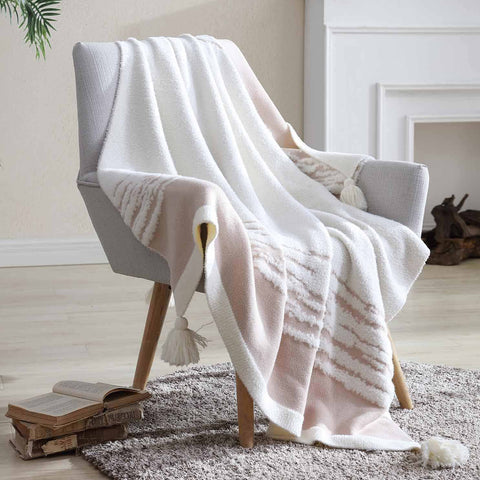 A luxurious, cashmere-feel soft knit designed for all seasons. Unlike the normal soft blanket in the markets, it has a supportive elasticity as well as amazing softness. Our designer describes the touch as "just feel like pampering a little lamb".
This ultra fine, machine washable fabric is spun from nylon, viscose and other fiber.
Care Instructions
Please lovingly care for the products to retain the softness. These fabrics do not like heat and we recommend a cool wash on the delicate cycle separately and gentle/air fluff in the dryer for a minimum time only. We recommend using a gentle soap without fabric softener or bleaching products. They are the best ways to keep the fabric soft and smoothing, with the life value extended.